Look — most of us probably had those moments growing up where we thought we'd be like Martha Stewart with cookies baking on the reg and an assortment of fine cheeses always on hand.
To pair with our plethora of expensive, top-shelf wines, DUH. 
But let's be real. You're probably lucky if you remember to brush your teeth half the time, AMIRIGHT? 
So next time you're up late with a glass of well-deserved wine but want something to munch on, too, forget about the Brie. There are plenty more realistic snack pairings for you to put together.
Best wine pairings
SNACK: Goldfish.
WINE: Pinot Noir.
MOM PROFILE: For the mom who had a hell of a long day, rushing the kids from school to home and then dance class, soccer practice and home again. This mom just needs a little salty, fake cheesy goodness to wash the vino down.
SNACK: Fruit snacks (cartoon-themed, of course).
WINE: Chardonnay.
MOM PROFILE: For the mom whose kids are sick of her stealing their chocolate puddings and lunchtime desserts. The kids can deal, OK?! You steal those fruit snacks. Go ahead. Don't even think twice.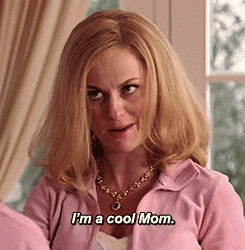 SNACK: Cheerios.
WINE: Cabernet Sauvignon.

MOM PROFILE: For the chill mom who needs a kick. Are your Cheerios older than the canned corn in your back shelf? Yes? PERFECT. It's OK if they're a little stale. You get a little stale, right? Do the Cheerios judge you? Didn't think so. So pour some big red and get munchin'.
And next week? A post on what to pair with sparkling wines! Stay tuned.
 Adapted from an Azcentral.com story by Melissa Farley.
Like All the Moms?
READ MORE:
Target is selling $5 wine, and we're just not really sure about it
Working moms clock 98-hour week, cope with Netflix, wine
Rosé in a pouch is the Capri-Sun adults have been waiting for