The Arizona Diamondbacks and the Los Angeles Dodgers head into the final game of their three game series tonight.
So far, it's a 1-1 split.
If you're a Dodgers fan, you're probably hoping Betty True will work her magic tonight.
Don't know True? I bet you'd recognize her pseudonym.
The Dodgers call her "the Rally Granny."
The 85-year-old from Fort Mohave, Arizona, earned the moniker after flashing 45,225 Dodgers' fans at the team's stadium on July 8.
Hello #AgingGoals.
Despite living in Arizona, she's a die-hard Dodgers backer.
Her July flash ony lasted a few seconds, but a star was born.
That night the music was cranking, the crowd was cheering, True's hips were grooving and she spotted herself on the big screen dance cam.
"I wanted to make a splash, but instead it turned out I flashed," Betty told All the Moms.
True said she didn't plan it. She just got caught up in the moment.
She yanked up her Dodgers blue shirt and flashed two seconds of white bra to 45,000-plus stunned fans who roared their approval.
After the game, True was mobbed by fans, including some wanting to take pictures with her.
One even asked her to take a picture with him and flash again. She obliged.
"If you don't get jealous of my abs," True said she told him.
She jests, but she does work out. Two times a week, in fact.
In my book, True is not only #aginggoals but #workoutgoals. But, even in your 80s, it seems, women find problem areas with their bodies that they'd like to improve upon.
True said she wished the video didn't show so much arm flab.
Nonetheless, the escapade is what birthed her nickname of "Rally Granny." The Dodgers came back from a 4-3 deficit in that July 8 game to beat the Kansas City Royals 5-4.
Dodgers first baseman rookie Cody Bellinger dubbed her "The Rally Granny" in the clubhouse.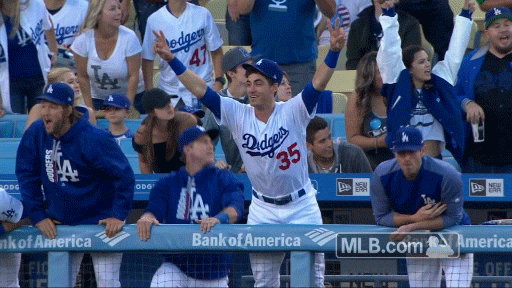 Rally Granny T-shirts that depict Betty pulling up her shirt are being sold with the Dodgers blessing, according to the L.A. Times.
We did a search and found them in an online store called Hooligansports.net where they retail for $20. And if we weren't diehard Diamondbacks fans, we'd totally get one.
True is in the process of moving from Arizona to the Fresno area to be near her two sons.
The Dodgers gave her a Dodgers T-shirt to wear under her Rally Granny T-shirt for future flashes the next time her sons take her to a game.
And while True may be a viral sensation enjoying her 15 minutes of fame, what really makes "Rally Granny" so special is her commitment to having fun — and her zest for life.
Her husband, Mark, died seven years ago. And she acknowledges that he liked to party. She, in turn, likes to keep his spirit and memory alive.
She says she drinks "more milk than booze" but is quick to note:
"I never turn down a margarita."
Does she have any regrets?
Only that she didn't wear a bra with one cup blue and another that was white to reflect Dodgers colors.
Again: #fashiongoals #allthegoals
Of her 15 minutes of fame, Betty said the world could use a little levity.
"I just love it! People are going crazy and everybody is having so much fun with this. And we need it. Away from all this other crap that's going on in the world."
Mission accomplished Betty.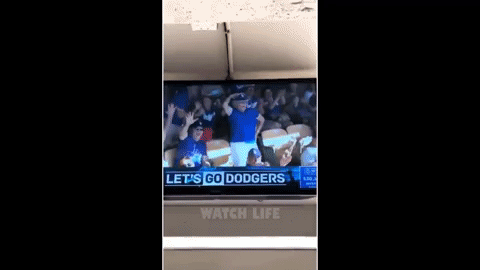 More viral videos