We've all seen our kids do it:
The toothbrush that's been barely run under the faucet.
A squirt of toothpaste on the tongue.
Or the worst: failure to brush at all.
Sure those tricks may fool many parents.
But the Tooth Fairy?
Nope.
Not if it's one Barry T. Tooth Fairy.
We pity the child who found this letter under his pillow.
Twitter user and dad of the year Henry Warren posted the letter on social media, presumably shortly after his son awoke and discovered there would be a "delay in the payment for (his) tooth" due to its current condition.
The letter goes on and notes:
"We expect a certain amount of wear and tear on the teeth we appraise. However, in this case your tooth had to be referred up to the committee for further analysis."
"Our son is dreadful at brushing his teeth," the elder Warren posted on Twitter. "Turns out the Tooth Fairy has had enough."
The Tooth Fairy alleges the tooth in question contained:
Trace amounts of Fanta,
a residual amount of cereal,
and chocolate.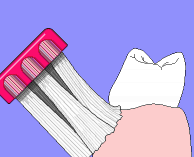 The letter closes with a serious warning that "we need assurances that the condition of your next tooth will be significantly better or we will withhold payment."
Whoa.
Parents who have begged, threatened and bribed their children to brush and floss were, needless to say, impressed.
Bravo Henry Warren and Barry T. Tooth Fairy.
We're guessing that that poor kid won't make the same mistake again.
Like All the Moms?
READ MORE:
There's nothing wrong with your 'weirdest' pregnancy questions
Teacher rewrites rap song for geography lesson, kids go crazy (and learn)
Social media reaction to all-female 'Lord of the Flies' is savage